I went north of flagstaff on Sunday evening hoping for a good night of bug hunting and maybe a female
H. spadix
. The afternoon forecast was for a high of 95 and I havenít been out for a couple of weeks so I figured what the hell. I called up another local bug hunter and we headed out around 8 pm. We arrived at the first spot around 9:15, found around a dozen
Paruroctonus utahensis
from the same area that I collected one last summer as well as my
Hadrurus spadix
. Unfortunately this time no spadix so after talking with a very nice Navajo Police officer about why two white guys were walking around after dark with purple flashlights we moved on a second location on down the road.
We parked the truck got out and started walking and that when the fun began. Within 30 minutes we had found
108
assorted
Paruroctonus
a mix of
utahensis
and what we think is
P. boreus
. After stopping back at one more spot on the way home we found around 10 more scorpions both
P.utahensis
and
P.boreus
as well as four
Serradigitus
that range wise should be
wupatkiensis
but does not resemble the
Serradigitus wupatkiensis
that we have found closer to Flagstaff. The total for all three locations for around 2 hours of walking was around 130 scorpions give or take.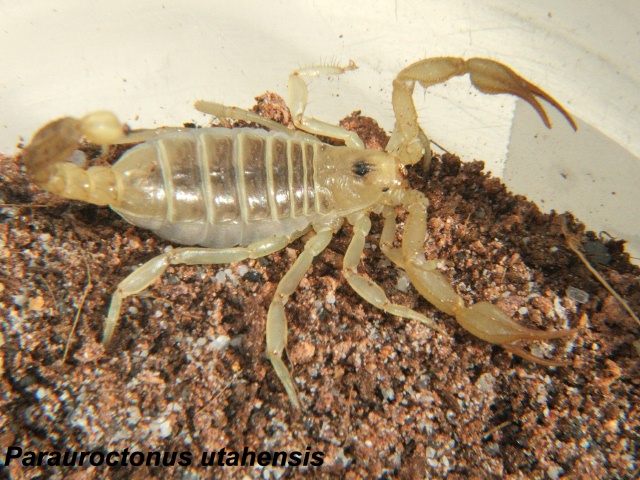 nice man, sounds like a productive time

_________________
There is only one way and that is the natural way
Arachno Super Mod




Posts

: 314


Join date

: 2008-04-18


Age

: 54


Location

: Ypsilanti Michigan



good grief james! thats alot of scorpions! hey, ill be up north this weekend. what are u doing?? we might go up to the north rim... lees ferry, jacobs lake, etc. u down to go??
Admin




Posts

: 307


Join date

: 2008-04-17


Age

: 37


Location

: phoenix, az



Admin




Posts

: 72


Join date

: 2008-04-17


Age

: 35


Location

: Chandler, AZ



That was my very best night of scorpion hunting that I have had to date. I wish that I could have found one spadix that would have gotton the hat trick for that area.
Went out last thrusday night for Serradigitus wupatkiensis and found 1 H. spadix, 30 P. utahensis but no wupatkiensis maybe I will get lucky this next thursday night.
Man, I need to make it up to Flag. I was just up there the weekend before last on a little vacation. I have yet to catch any of the species you have mentioned.
Admin




Posts

: 72


Join date

: 2008-04-17


Age

: 35


Location

: Chandler, AZ



Went out last night for what I think will be the last trip north for the season for me. The night time temps at 8:30 was beteeen 57-63 degrees with a pretty steady wind blowing. There was a full moon out and I was hunting in one of my favorite spots, it was bright enough to all but cancell out my blacklight.
I did manage to find 10 P. utahensis but that was it. All of them were found either flat to the ground or under bushes. If it warms up again over a time with little to no moon I might try another trip but at this point I think the season is coming to a close. Oh well I can always find Centruroides in phoeix over the winter if I really get the itch to do some buggin.



Similar topics
---
Permissions in this forum:
You
cannot
reply to topics in this forum